haart placed firmly on the map
---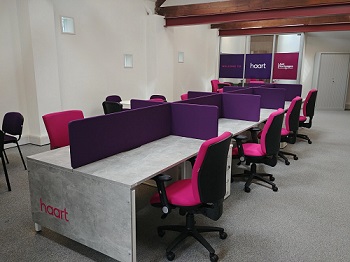 haart's ambitious plans to be based in every postcode in the UK are taking shape, with new Property Centres and partners taking their positions across the country.
Its latest Property Centre to open is in Leeds and will soon be followed by ones in Aylesbury, Plymouth and Wolverhampton.
Each of the new superbranch-style Property Centres will have around 15 staff involved in sales, lettings, finance and administration, managed by an Area Partner, and will support 8-10 home-based sales and lettings Partners.
More than 50 home-based Partners have now been appointed, with a further 60 planned this year – and even more next year, with a long-term goal of covering every postcode in England and Wales. At the same time, 35 people have been recruited or promoted into Area Partner roles.
The new Area Partner for Leeds is James Bryan, who brings experience from previous roles with Purplebricks, Countrywide, Hunters and Knight Frank as well as running his own business.
Revealing the latest picture, Spicerhaart Group Managing Director Antony Lark said: "These are extremely exciting times for us as we continue to move forward with our innovative approach to estate agency.
"There is no doubt that this method, combining Property Centres with town-centre branches and home-based Partners, is the best model for estate agency right now. It's great for the business and also offers more choice to our employees, and what we're seeing is that where we lead, other agencies are starting to follow.
"Our investment over the years in people, technology and marketing has given us the edge and we've been getting very positive feedback from people wanting to join us from competitors. It's fresh and innovative and it builds on traditional values but in a really modern way.
"Although we are the largest independently owned estate agency in the country, our ambition is to take on the big corporate players. To have a growth strategy like this is hugely exciting.
"To ensure this growth could happen, we created three key Leadership roles: the Area Partner of a Property Centre, the Partnership Director and the Estate Agency Director. These all report into our Chapter Managing Directors and, as a team, they ensure that we attract, recruit and on-board the best talent into the Partnership roles and then work closely with them to create great businesses."
Janette Churchill, a Partner in Norfolk, said: "My business has more than doubled since I became a Partner, with thanks to the support I have from the team at the Norwich Property Centre. They do an incredible job of arranging all the admin and sales progression while I concentrate on getting new instructions and exceeding our clients' expectations!"
Alex Clark, the haart Partner based in Grantham, added: "In the first quarter of this year my pipeline was three times the size of the previous year. It just goes to show what the Partner role is able to do if you embrace it and you're prepared to work hard."