Exceptional 2, 3 and 4-bedroom homes in the sought-after area of Armthorpe with 50% sold off-plan!
---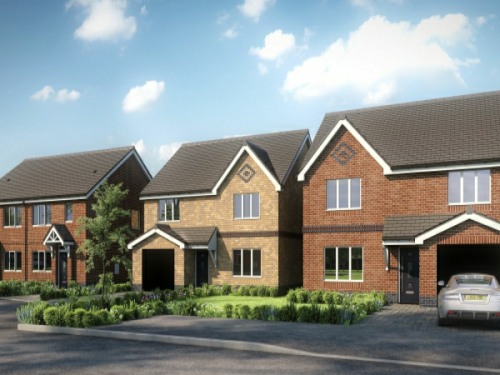 Another successful sell out development for haart Land and New Homes, showcasing one of the UK's largest estate agencies continued strength and growth in the new homes division.
Located in Armthorpe, the brand new two, three and four-bedroom properties at Westfield Green in Doncaster are now home to new owners following a successfully executed marketing strategy. This superb development of 22 units priced from £150,000 to £270,000 was marketed by the team using a combination of digital and offline techniques to highlight the homes to applicants searching for homes within walking distance of the town centre and that offered a high-quality finish throughout.
Focusing on the main selling points of these new homes in the north of England, our skilled sales and marketing experts knew that these luxury properties of bungalows, semi-detached and detached houses offered buyers a choice when it came to their next home, and would attract not only retirees but downsizers as well.
Similarly, the proximity to Armthorpe's amenities, and travel links into Doncaster town centre, made these properties attractive to first-time buyers in the area searching for high specification homes close to must-have shops and eateries.
With various multi-platform digital tools at our disposal, the team used highly targeted email marketing campaigns achieving an average open rate of 39%, well above the industry average, and organic social media posts across Facebook, Twitter, Instagram and LinkedIn. In addition, our FLINK technology was used, with social media ads aimed at untapped potential buyers looking for a new home in Doncaster.
Utilising our extensive applicant database from our main branch on this development, haart Doncaster, the team commenced with high-quality property photography and videos advertising the properties on the branches network of social channels, as well as call outs to specific buyers. There were also several popular viewing days which attracted keen buyers looking to see the quality properties up close.
haart Doncaster were dedicated to ensuring these properties sold and, understanding their buyer's needs, created videos which detailed the progress of the development – through rain or shine! These videos were showcased on the branch's social media platforms, including 2,196 Facebook followers. With 50% of the development purchased off-plan, the follow along video updates proved an invaluable tool.
Regional Sales Manager, Mandi Doyle, who worked in partnership with haart Doncaster to sell the 22-unit development, said: 'The development was so successful due to the amount of marketing conducted both offline and online. We covered the site with videos on the progress of the build with the girls in branch in wellies and hard hats. The branch completely bought into the site and took ownership, speaking with the developer constantly and building a relationship.
'An amazing 50% of the development was sold off-plan, with purchasers reserving from the brochure, and as soon as we were able to get people into the homes they sold. The bungalows were small, so while they were popular they weren't suitable for every potential buyer, and we used our sales and negotiation experience in order to reserve all 22.'
A big hit with retirees looking for bungalows in the area, the new build aspect of the properties proved a big hit with older purchasers who had previously viewed secondary properties and found they required too much modernisation. However, a new build allowed them to settle into their new home with ease.
While first-time buyers and younger buyers were drawn to the semi-detached due to modern interiors and on-trend kitchen choices, making these properties a fantastic choice for all prospective buyers searching for a new home in the Yorkshire area.
Building a superb partnership with the developer throughout the sale of these properties for Ridley Homes, haart Land and New homes are discussing future projects together after the success of Westfield Green. Speaking on the fantastic partnership with haart, Ridley Homes' Andy Ridley said: 'At Ridley Homes the customer is at the heart of every build.  We want them to be delighted with their new home and this journey begins from the moment they see the house advertised.
'I instructed haart to represent the development as I felt that their values aligned with those of my business. haart created that personal and professional experience for every Ridley Homes customer, from the first interaction through to completion of the sale.'
A superb win for Spicerhaart Land and New Homes, as well as haart estate agents in Doncaster, whose combined efforts saw another fantastic development in the area sold!
Are you looking for an agent to sell your development in Yorkshire? Contact Mandi Doyle via mandi.doyle@spicerhaart.co.uk to find out how we can help you sell your new development.