Fantastic two-bedroom apartments in the sought-after area of Witney, sold with Shared Ownership scheme
---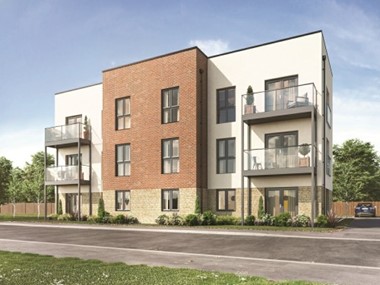 The Spicerhaart Land and New Homes team have successfully sold another development, using a combination of marketing tactics including FLINK, our extensive branch coverage and expertise of the brilliant sales teams of Land and New Homes.
Situated in Minster Lovell, the brand new two-bedroom apartments at Colwell Green in Witney, this superb development of three units priced from £250,000, was marketed by the team using a combination of digital and offline techniques to highlight the homes to applicants who are looking to get on the property ladder with a part buy-part rent scheme.
Our skilled sales and marketing experts in the local branches and wider teams immediately identified how this high-quality and spacious development would attract not only first-time buyers and young couples but professionals and commuters, with excellent transport links.
The properties are very close to Witney town center, and a stone's throw from the Cotswolds. This made these properties attractive to younger audience like first time buyers searching for high specification homes close to multiple shopping centres and restaurants, yet also close to large open spaces.
We have a large range of digital tools at our disposal, including highly targeted email marketing campaigns which achieved an average open rate of 40%, well above the industry average. We also undertook an organic social media campaign across Facebook, Twitter, Instagram and LinkedIn, and utilizing our renowned FLINK technology, we targeted potential untapped buyers who may consider a new home in Witney, but have not necessarily been searching the portals such as Rightmove and OnTheMarket. These properties were more affordable than people may have thought!
The FLINKs carried out for Colwell Green achieved a fantastic reach, considering its tight criteria set to ensure we generated quality leads for proceedable buyers that matched the shared ownership criteria set by our client. These brand new, what we call 'passive' buyers, may not have otherwise known about Colwell, but using a carefully selected target area and tight demographic criteria, we needed to attract those that are eligible for the part buy-part rent scheme in this area.
Due to increasing numbers of applicants registering with our branches, the extensive applicant database from our main branch on this development, haart Swindon, the team promptly advertised the properties on the branches network of social channels, portals and websites, as well as offering advice on buying and shared Ownership. There was also a successful viewing day which attracted keen buyers looking to see the quality properties up close. This was tricky to facilitate in the current climate but the appointment only event ensured we adhered to strict Covid rules and guidance.
New Homes Sales Manager, Tania Lillie, who worked in partnership with haart Swindon and the client, Heylo, said: 'It was fantastic to be instructed again by Heylo, as the properties they sell are not only a great way for buyers to get on the property ladder but they are always extremely popular'.
'First-time buyers and younger buyers were drawn to the apartments due to affordability, modern interiors and spacious kitchens, which are great for entertaining friends and family. These properties make a fantastic first home for buyers searching for an apartment in the Witney area with an abundance of nature spots to explore'.
This was a great success for Spicerhaart Land and New Homes, as well as haart estate agents in Swindon and Heylo Housing, whose combined efforts saw another fantastic development in the area sold!
Are you looking for an agent to sell your development in Witney or surrounding areas? Contact our New Homes Sales Manager, Tania Lillie via tania.lillie@spicerhaart.co.uk to find out how we can help you sell your development.