Brand new apartments and houses now SOLD OUT in Merthyr Tydfil
---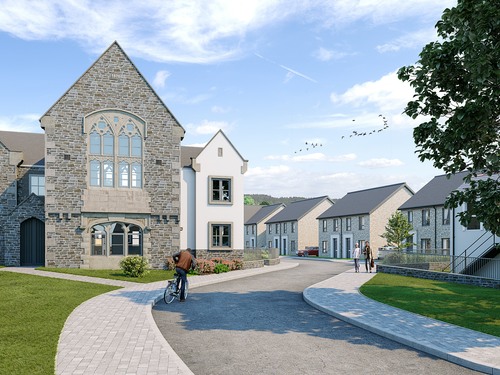 An outstanding development of apartments and houses in Merthyr Tydfil has completely SOLD OUT –all off-plan.
St Tydfil's Grove is a collection of brand new two bedroom apartments and two and three bedroom houses, situated in Merthyr Tydfil, Wales. This development was priced from £120,000 to £245,000 and available with the Help to Buy scheme, making these homes popular for first-time buyers wanting to get onto the property ladder.
The peaceful homes of St Tydfil's Grove are designed to offer an outstanding blend of modern and old; these 39 homes provide ultimate tranquility and character and infused with breath-taking Georgian-inspired designs.
St Tydfil's Grove sits close to Thomastown Park, a local beauty spot with 17 acres of parkland including tennis courts, children's play facilities and a wealth of walks with lovely views. The development is just a short walk from the centre of Merthyr Tydfil and its railway station, meaning these homes were ideal for commuters, families and young couples.
Our in-house marketing team embarked on eye-catching email campaigns to potential buyers, which achieved an excellent average open rate of 35%, well above the industry average. We also created organic and paid social media campaigns across Facebook, Twitter, Instagram and LinkedIn which received a large volume of interest.
Using our FLINK technology, the team created multiple ads for the development across social media platforms, which garnered over 150 leads. The social media campaigns are targeted at what we call 'passive' buyers, that aren't necessarily looking on the property portals. Using a carefully selected target area and selective demographic criteria, we set out to target those who may be interested in these properties and the Help to Buy scheme.
Darlows Merthyr Tydfil, the main branch on this development, utilised their extensive applicant database to organize dedicated call outs sessions to customers whose interests match the key qualities of St Tydfil's Grove. They also regularly advertised the properties available on the branch's network of social channels.
Regional Sales Director, Charlotte Wainwright who worked in partnership with Darlows Merthyr Tydfil to sell this development said: 'We sold all plots off-plan before developers had even started on site. It was a real pleasure to work with this developer and we achieved a fantastic result."
This was a great success for Spicerhaart Land and New Homes, as well as Darlows estate agents in Merthyr Tydfil, whose combined efforts saw another fantastic development in the area sold, but this time 100% sold off-plan!
Are you looking for an agent to sell your development in Wales? Contact our Regional Sales Director, Charlotte Wainwright via charlotte.wainwright@spicerhaart.co.uk too find out how we can help sell your development.