FLINK for land and new homes
---
Our bespoke USP FLINK™,  is helping us reach wider audiences so we are generating more leads and selling developments faster. 
There are four types of buyers: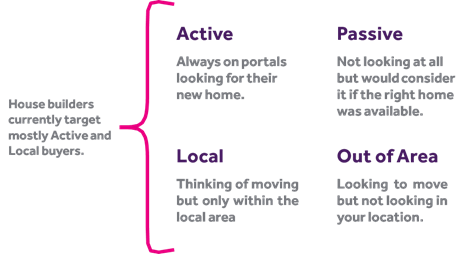 House builders will not achieve the best price if they only market to the local buyer.
By marketing to different areas we can create more competition among a population with more equity.
Without FLINK™ house builders aren't capable of consistently reaching a targeted audience in these areas.
Smart Targeting
When 'passive' buyers happen to see a property feature they like, it kicks off the sales process.  Using FLINK™ we set up multiple ads with different messaging to target areas around the development as well as popular points of interest such as train stations, schools, events in the area that may attract people from further afield and even similar developments locally. 
The multiple adverts for that development are then shared across social media, making sure different audiences see different things depending on what's likely to stand out to grab their attention.
We can tap into those buyers who aren't yet registered with an estate agent or searching the property portals.
How FLINK™ finds more  buyers
While some estate agents claim to  use social media to advertise  properties, we are the only agent to  have FLINK™, giving you access to a wider audience and far more buyers.
Create
FLINK creates multiple ads to use aspects of  your development to appeal to different people.
Adjust
FLINK learns and optimises to find more of the right target audience who will engage with our ads.
Target
FLINK targets people based on data from  Facebook and Google.
Share
FLINK then shares the ads with thousands of  people on social media.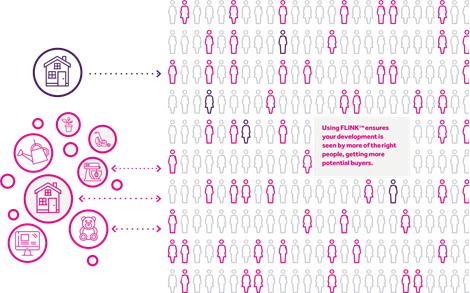 The leads matter
Our house builders have enjoyed some amazing results using FLINK™, with sale speeds and prices exceeding their expectations.
FLINK - Why it is better
Other agents say they have brilliant social media marketing. And it can be hard to understand the differences. The truth is, most of them are pretty basic. FLINK from haart is different, smarter and more effective.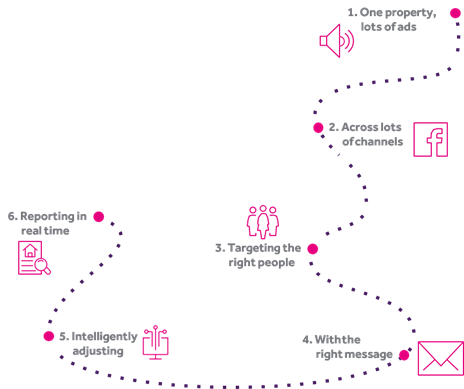 Find out more today by contacting one of the team or take a look at our case studies below:
1) haart
2) Chewton Rose